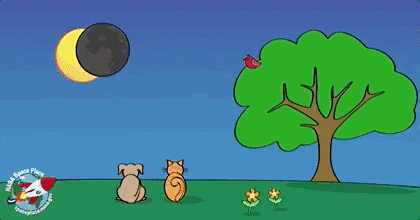 We had an exciting start to the week with the viewing of the solar eclipse. It was such a joy to get to experience this epic event with our students and even many parents. Students were excited to bring home their hats and glasses as souvenirs!
Please don't forget that this Wednesday, August 23rd is curriculum night beginning at 4:30.  The evening will begin in the gym with introduction of staff members and a short presentation from PTO. 
At 5:00, you will begin presentations with teaching teams. I will be doing a presentation in the kindergarten room. 
This year we're going to use a new tool to share what we're learning in class called Seesaw. Your child will have his or her own learning journal, and you can get notified when your child adds new items. It's completely private -- only you can see your child's journal outside of class.

Click on https://app.seesaw.me/s/786-633-370 to sign up -- it takes just 30 seconds.

Once you sign up, you can download the Seesaw Family app for iPhone or Android, or access your child's journal on the web. Many of you are already enjoying seeing pictures and receiving updates on the seesaw app. 
Here's a look ahead to what we will be learning this week:
Literacy
Students are enjoying getting to know about Cass who loves to cook. We are beginning to encode for the /k/ sound as well as write the letter Cc. This week we will become cooks like Cass and bake cookies. As we continue to establish and practice classroom literacy routines, we are taking our time to develop good work habits in using pencils, crayons, markers etc. 
Math
In Math, we are continuing our work on classifying items. So far we have classified and sorted items by color, shape, and size. This week, we are learning and practicing sorting items by quantity. 
Social Studies
This week we are learning how to get a friend's attention.
Tap a friend on the shoulder (If you get tapped on the shoulder, you turn and look towards person tapping you)

Say their name

Make request (ask to play, hand them something)
We will continue to practice and reinforce the rules as well as the basic routines of our school and classroom. 
Science and Outdoor Learning
Our first hike was very well received by students. We will take another hike to become familiar with more of our outdoor spaces on our beautiful campus! This week we plan on exploring the observation deck area as well as the upper garden. The kids were surprised at how we walked though some pretty tall scrub oak that was knee high. They will become used to it and branch out and explore. Thursday is planned as our "outside science" day. It coincides well with PE as most kids have on shoes conducive to nature walks. 
From the Mouthes of Babes...
Kid: "I don't wanna have more birthdays."
Teacher: "Why? Don't you like having birthday parties and eating cake?"
Kid:"I don't wanna get old like you!"
Upcoming Dates:
Curriculum Night- August 23rd 4:30-6:00
Picture Day- August 30th



Please reload